Working together with our school community, our mission is to ensure a safe, supportive and respectful environment which promotes the development of individual potential and enthusiasm for life-long learning.
Cinnabar Valley Elementary opened in the fall of 2001.  It is a Kindergarten to Grade 7 school located in the Cinnabar Valley just south of Nanaimo.
Cinnabar Valley is a country setting that has grown rapidly over the past few years.  The school currently has 276 students in 11 divisions.  There are two portable classrooms on site.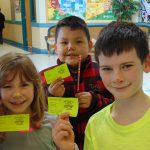 Need to get in touch with one of our teachers or staff members? [...]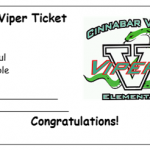 Valley Viper Tickets are our way of recognizing positive behaviour among our students at C [...]
Contact Information
Contact Cinnabar Valley Elementary directly with the information listed below:
Mailing Address
1800 Richardson Road Nanaimo, V9X 1C9
Office Hours:  8:15 am – 3:45 pm
Direct Information
Phone: 250-716-1030
Fax: 250-716-0476